---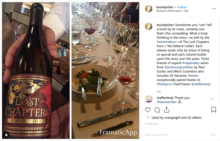 By Laurie Jo Miller Farr
Ameri-Brit writer | SATW | USA Today, Where Traveler, Haute Living, Google Touring Bird, CBS Travel, Far & Wide, Food & Travel, The Travel Vertical...
"Sometimes you *can* tell a book by its cover, certainly one that's this compelling. What a treat. Drinking in the story—as told by the #winemakers—of The Lost Chapters from J. McClelland Cellars. Each release exists only by virtue of being so special and each volume builds upon the story over the years. Three brands of superb #napavalley wines from #jmcluxuryportfolio by Paul Scotto and Mitch Cosentino also includes 50 Harvests; #wines exceptionally paired thanks to #Perbacco Chef/Owner @staffanterje"